Jumpman, Jumpman, Jumpman, them boys up to something! An absolute colossal collaboration between Supreme and Jordan brand has just been officially confirmed through Supreme's Instagram with the photo seen above. Regardless of how you feel about the brand Supreme I think we all need to take a step back and appreciate the magnitude of getting Michael Jordan to cosign your brand.
We all knew the Supreme Air Jordan 5's were already on their way, but the Jordan photo confirms that the collaboration will be a bit deeper then just sneakers. We can expect to see the shirt worn by Jordan above to be sold, and we hope to see outerwear in the collection as well. Some photos have been leaked of what looks to be a snapback carrying the same Jordan x Supreme logo seen on the shirt, leading us to believe the hats are likely to be real.
It should also be noted that a sign has been posted outside of Supreme store's revealing that the sneakers will not be sold at their stores. This is probably due to the scale of this release, the stores want to protect themselves from any form of violence. Check out the image below: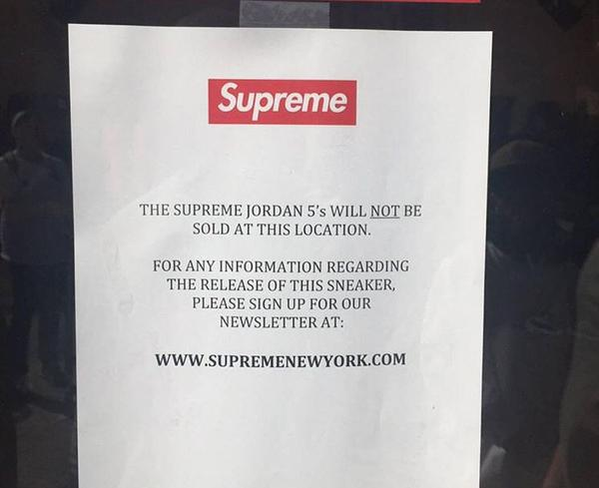 As of right now it is not confirmed if the collab will be releasing this upcoming Thursday or not, but with this official announcement it is expected. We will be sure to update this page as more information presents itself. So for now get you wallets in gear because the collab of the year is just around the corner.
—–
To keep up with more news on Supreme make sure to follow @typicalbsMedia and myself @AlecHendo on Twitter.